Here at ZSRweb, we have some experience building websites for construction companies and independent contractors. Oftentimes, we work with smaller companies, where they wear a lot of different hats—including making content for their own websites. Here are five tips for making content for your construction company's website.
Find out what phrases people are searching for in your industry and write blog posts based on those topics
Share high-quality photos and helpful videos throughout your website
Share your company's story on your About Us page; it's one of the most important pages on your site
Write useful FAQ sections
Showcase relevant customer testimonials on each page
"Content is king" should always be at the front of your mind when making content for your website. Google rewards websites that offer useful information on a regular basis. As an industry pro, you can easily write about topics your clients often face, but there is also another option.
1: Use Search Analysis to Find Blog Topics
So you have a website; now what? If you don't do anything with it, it's basically just a digital business card. It's fine if that's all you're looking for. But if you are trying to build your web presence, then you are going to have to start creating content, whether it's writing blogs or making videos.
One of the best ways to come up with topics that will generate traffic to your website is by using Google to find out what people are actually searching for. We'll use the HVAC industry as an example.
First, type in something you think a client might search for, like "questions to ask your HVAC contractor." Then you can see what other people are writing about this topic.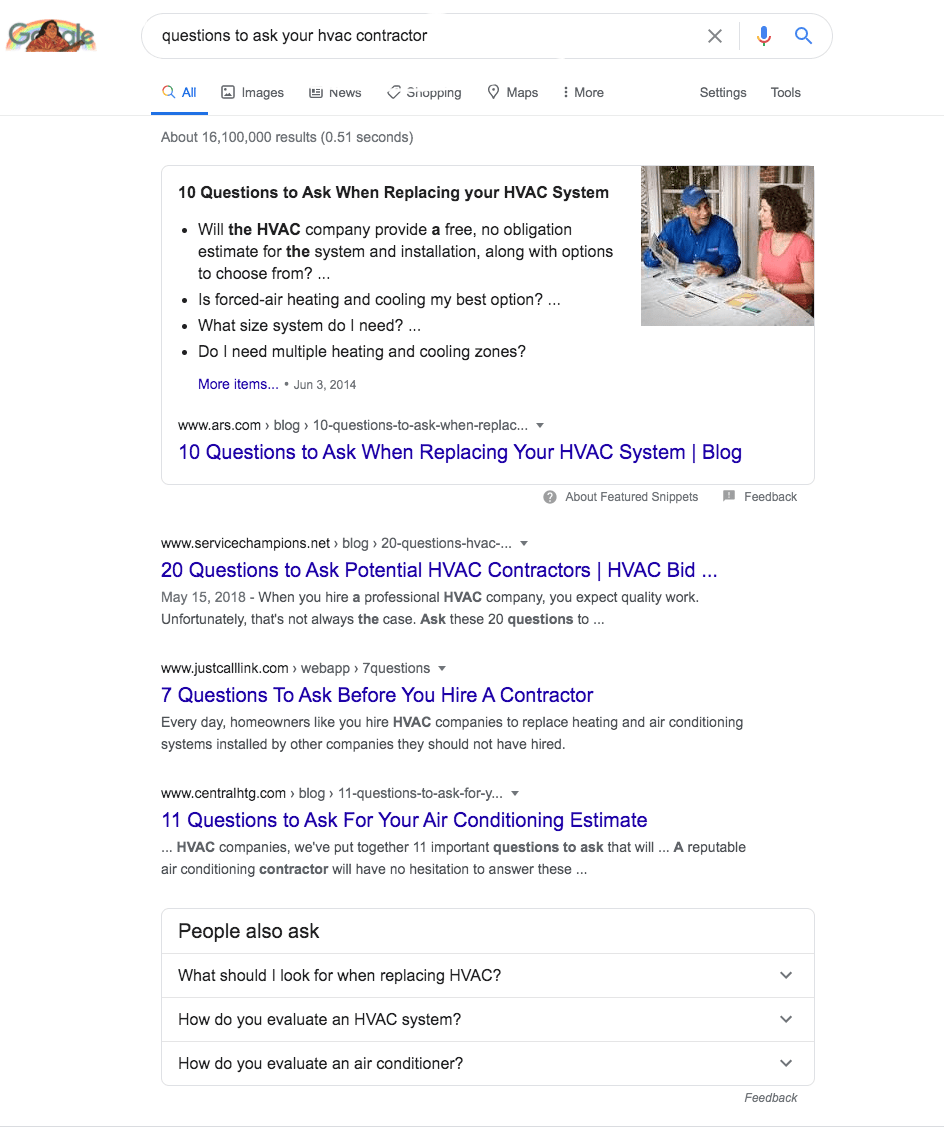 But more importantly, Google gives you more suggestions in the "People also ask" section and also at the bottom under "Searches related to questions to ask your hvac contractor." Next, follow the links to all the related questions and check what comes up at the bottom of those pages in their "related questions" sections. This is an easy way to find blog topics that people are actually searching for.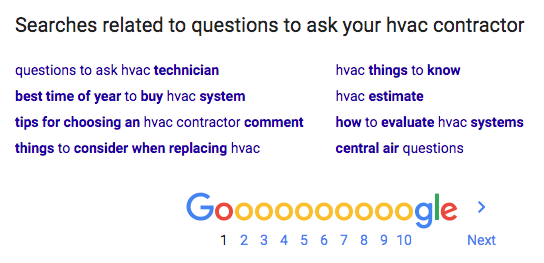 Here's what you get from just following the links above:
| | | | | |
| --- | --- | --- | --- | --- |
| questions to ask hvac technician | best time of year to buy hvac system | tips for choosing an hvac contractor | things to consider when replacing hvac | hvac things to know |
| hvac estimate | how to evaluate hvac systems | central air questions | best time of year to replace hvac | best time to buy furnace and ac |
| installing hvac system | air conditioner | complete hvac system | hvac split system cost | how to choose hvac contractor |
| what to ask hvac contractor | tips for residential hvac installation | how to shop for hvac | tips for buying new hvac system | questions to ask when replacing an hvac system |
| hvac buying guide | how to replace hvac | house hvac system | what hvac unit to buy | hvac systems 2019 |
| hvac selection guide | hvac system types | hvac system pdf | hvac basics | hvac system working principle |
| hvac system components | hvac cost estimator | central air installation cost calculator | furnace air conditioner combo cost | furnace and air conditioner packages |
| faqs about replacing hvac systems | air conditioner questions and answers | air conditioner problems and solutions | hvac troubleshooting questions & answers pdf | questions for central air installation |
While some of these results might overlap or not pan out, it could get you thinking about what people need help with and even some other things you could offer, like an eBook or pdf.
Another alternative is to start writing about common issues your clients face. As a professional, you already know what information would be useful and relevant for them. But even the most useful content isn't always what people are searching for on Google, so it might not actually help bring more traffic to your site. If it's something you really want to write about, then go for it. Next time a client encounters that issue, you can refer them to your post.
Last but not least, you could share industry-related news or recent completed projects on your blog. This is an easy way to find things to keep writing about.
You might be wondering what kind of results your site will get from writing these blog posts. Writing content to help rank on Google and bring more leads is a long-term game. It could take months or even over a year to rank on Google's Top 10. But if you regularly update your site with exceptional content, your website will eventually gain traction and loyal customers.
If this sounds overwhelming, don't worry; you can always hire someone to write it for you!
2: Share Real Photos and Make Helpful Videos
These days, people expect businesses to be more and more authentic and transparent. When it comes to your site, this means showcasing real photos of your work and your crew. While stock photos are tempting, you should try to avoid them if possible.
You could hire a photographer or check YouTube to learn how to take great pictures with your smartphone. You can get the word out to others in your company too; if they take some pictures on the job, that could be something to share.
For a construction company, good visuals of your work are important. Better yet, pictures of happy clients in front of your work would be ideal! Prospective clients will appreciate you for giving them an insight into your quality workmanship.
Videos
Pictures are wonderful, but if you can offer videos, that's the icing on the cake—and it's what everyone is talking about. People stay longer on sites that have videos, and in the future more and more web content will be video. Stay ahead of the curve by figuring out how to incorporate video into your business now. This could mean turning your blog posts into videos or filming how-to videos for the most common problems people face in your industry. There are lots of options, and it isn't that hard to make a decent video by yourself. There are tons of people on YouTube you can learn from.
It's no biggie if you don't have the motivation to make videos. But if you can offer videos that are useful to your audience, it will definitely set you apart from your competitors.
3: Build Trust with an Awesome About Us Page
Businesses often overlook their About Us page, thinking it's not that important. But don't make that mistake!
Your About Us page is often one of the most important pages on your website. Why? As we stated earlier, people these days are more and more interested in authenticity. They might assume that most businesses in your industry more or less know what they're doing; so the differentiating factor is whether they like you and want to work with you.
So if potential customers like what they see on your Home page, they're going to check out your About Us page to make the final decision. You don't want to waste this chance, right?
Take the opportunity to let them know how you can help them and what differentiates you from the competition. Also be sure to share your personal story, what your values are, and why you want to help people.
If you need more specific advice on how to write your About Us page, check out our blog post addressing this issue.
4: Write Useful Frequently Asked Questions
This is pretty straight-forward: Answer the questions your clients most often ask, and update it when new questions pop up.
Some people say you should only answer questions people actually ask. But we think FAQs can also be useful in educating clients about things they should know about. Is there anything you have to consistently explain that you wish you didn't? You could try adding that to your FAQ section.
You can either have a whole page dedicated to FAQs, or you could add smaller FAQ sections to different pages, like your services, etc.
5: Showcase Relevant Customer Testimonials
While gathering customer testimonials isn't really "making" content, it can be hard if you don't have a process in place. We wrote a blog post giving tips on how to gather customer testimonials. Check it out if you need some ideas.
Prospective clients will probably also seek out third-party reviews, but they will also pay attention to what's on your site.
Be sure to pepper your entire site with testimonials, and try to put related testimonials on your different services pages, etc. It's one of the best things you can do.
We hope this is helpful. If you have additional questions or suggestions, please let us know!